Drinking in Havana generally seems to been done out of a bottle of rum sat on the doorstep on a balmy evening watching the cinema of street life pass by. Or, if you're feeling more sociable, taking to the Malecon, dancing on the wall as the sea crashes behind you while salsa seeps out of an old stereo. After all, a bottle of Havana Club will set you back less than $5, and the view is free. That makes it a pretty appealing option. For the first few weeks of my stay, the only alternative I found was taking a table at the tourist-driven bars, forking out for their over-priced mojitos and money-in-the-hat bands. La Bodeguita del Medio, the former haunt of Hemingway, is beleaguered by bad service and cruise-ship crowds, while places like Dos Hermanos or El Tocororo have a nice atmosphere, but in that charming, grown-up way.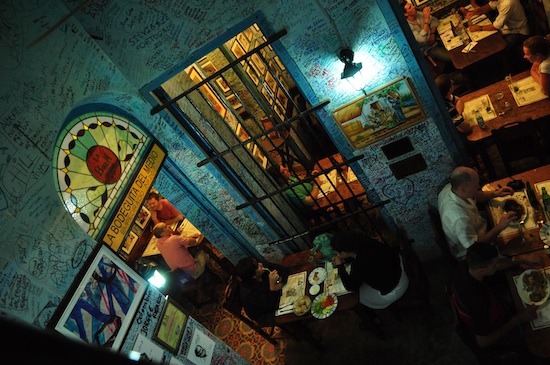 La Bodeguita del Medio | Tyler Wetherall
I wanted to find my bar. The bar that I would return to again and again; I would have a favorite drink; I would know the name of the barman; and every time I went, I would walk away with either interesting stories or interesting friends. If I had lived my life in Havana, it would be the bar where my tribe would congregate.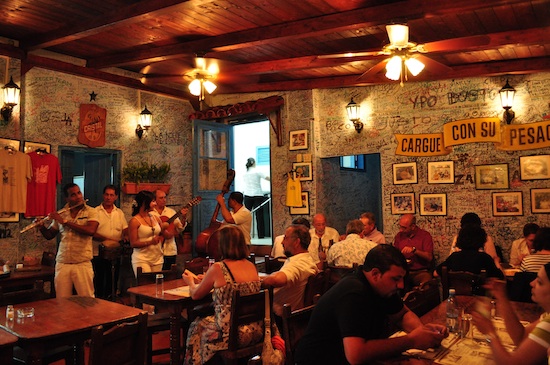 La Bodeguita del Medio | Tyler Wetherall
The closest I had come to finding that was Fresa y Chocolate (Calle 23, e/ Calles 10 y 12) in Vedado, also headquarters of the Cuban Film Institute. Named after the Oscar-nominated film of the same title - the movie about forbidden homosexual love began to turn the tide on institutional homophobia in Cuba - the bar naturally attracts a liberal-thinking, chilled-out crowd, with occasional live acts or gallery launches. Monday nights are particularly fun.
Next up, some friends took me to Cafe Madrigal (Calle 17 #809 altos, e/ 2 y 4), one of a boom of new bars to open thanks to the effects of Raul Castro's 2010 reform program kicking in. Inside a 1919 Vedado mansion, it's packed with film memorabilia - I particularly liked the sound umbrellas for light shades - and kitsch artefacts from the life of owner, Rafael Rosales. An intellectual, arty haunt for young, hip cinephiles they meet to discuss the latest art house flick while sharing a platter of tapas. They have plants growing out of the sink, antique lamps and bare brick walls, in that trendy mix of kooky and vintage that wouldn't look out of place in New York.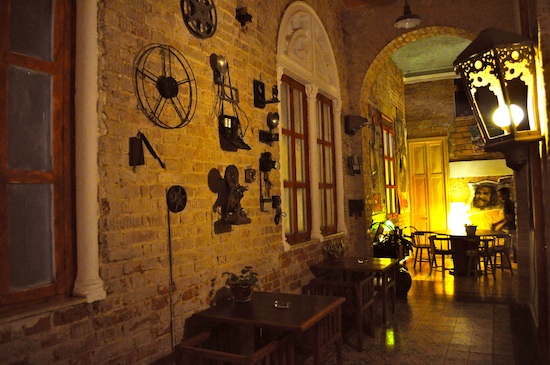 Tyler Wetherall | Cafe Madrigal
It was at Cafe Madrigal a friend tipped me off on what would become my favorite bar yet, Bar Zorba. It's one of those places I didn't know if I should write about. These come along rarely. A google search later, and it seems no one else has wanted to share it either.
All I had was a name and a vague area, so with no other leads, I jumped in a taxi. The taxi driver hadn't heard of it, but was on board with my mission of tracking it down, so we ended up driving around, as I occasionally got out to ask directions.
Three false starts, one embarrassing misunderstanding involving suspected breaking and entering, and I was ready to give up, until rolling down a quiet side street, we came across a handsome young man stood outside a gate. Giving it one last go, I asked if he knew the way, and lo and behold, we were there. I tipped the cab driver generously for his efforts, but when I tried to enter, the handsome gatekeeper told me it was a private party. It was only with a lot of pleading and a dramatic retelling of my battle through the night to make my way there, that he agreed.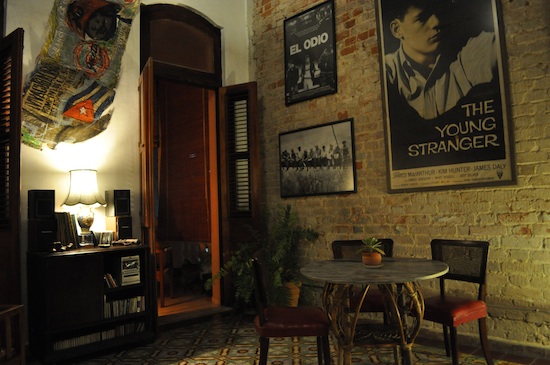 Tyler Wetherall | Cafe Madrigal
Walking under a canopy of trees, a tiki hut style room emerged decorated with fake flowers and buddha statues, which opened onto the green, tropical gardens, with ponds and leafy alcoves, perfect for cocktail drinking and canoodling. Young, cool habaneros filled the bar and dance floor. Mainly university students and arty types, the bohemian, party vibe was in full force. It was like discovering the secret party garden.
It was kitsch in its tiki aesthetic, but that sort of kitsch that just encourages you to be a little bit silly, to dance a littler hard and behave a little more outrageously. It was one of those parties you imagine will keep going into the following morning, only getting more fun, and that every time you return, it will be there waiting for you, which it was.
Sadly, the owner asked me to keep it on the down low, which means you'll just have to track it down for yourself.